Mental Health First Aid
Identify. Understand. Respond.  Mental Health First Aid is a skills-based training course that teaches participants about mental health and substance-use issues.  Just as CPR helps you assist an individual having a heart attack, Mental Health First Aid helps you assist someone experiencing a mental health or substance use-related challenge. In the Mental Health First Aid course, you learn risk factors and warning signs for mental health and addiction concerns, strategies for how to help someone in both crisis and non-crisis situations, and where to turn for help.
Virtual Mental Health First Aid May 31st
To register for this workshop, go to https://go.wisc.edu/uz3y5m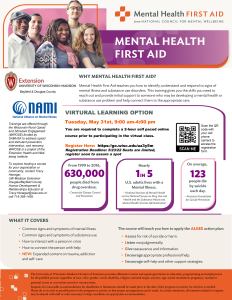 Mental Health First Aid for Adults teaches people how to recognize signs of mental health or substance use challenges in adults ages 18 and older, how to offer and provide initial help, and how to guide a person toward appropriate care, if necessary. In this highly interactive workshop, participants use scenarios to put the 5-step action plan into practice, in both crisis and non-crisis situations. Topics of discussion include anxiety, depression, psychosis, and addictions.
Youth Mental Health First Aid is designed to teach parents, family members, caregivers, teachers, school staff, peers, neighbors, health and human services workers, and other caring citizens how to help an adolescent (age 12-18) who is experiencing a mental health or addictions challenge or is in crisis. The course introduces common mental health challenges for youth, reviews typical adolescent development, and teaches a 5-step action plan for how to help young people in both crisis and non-crisis situations. Topics covered include anxiety, depression, substance use, disorders in which psychosis may occur, disruptive behavior disorders (including AD/HD), and eating disorders.
  Highlights of Taking Care of You
Explore ways to take better care of yourself and manage stress in eight 45-minute Zoom sessions!
Highlights of Taking Care of You is designed to help you discover strategies that will help you to become more aware of the mind-body connection and gain skills to respond to stress you may experience in your daily life. We discuss multiple aspects of wellness including physical, mental, social and spiritual health and integrate multiple different ways to practice mindfulness, with opportunities to try them together, engaging to whatever extent feels comfortable. Additionally, we explore topics such as forgiveness, reframing and gratitude, as tools for a healthier life.
Make-It Ok Zoom Workshops
Do you want to help reduce the stigma of mental illness? Do you want to learn moreabout how to Make It OK to talk about mental illness? Join us for a brief online Zoom session on how you can Make It OK in our community.
Tues. May 3rd from noon- 1:00 pm or Mon May 23rd from 11 am-12:00 pm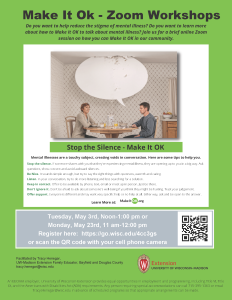 WeCope
The next session is June 15th-July 20th, 2022. CLICK HERE for more information
WeCOPE is an interactive program that helps adults cope with life stress.  WeCOPE has been shown to reduce stress and depression, increase positive affect, and improve health behaviors. Managing life's challenges in healthy ways allows participants to take better care of themselves and others.
This 6-week program meets via Zoom, once a week for 1 hour. These sessions encourage practicing skills such as mindfulness, savoring, positive reappraisal, gratitude, and goal setting among others.  Participants gain the most benefit when they are able to commit some time outside of class each week practicing the skills we review in class.
We will use email to communicate with you prior to, during, and as a follow up to the course.  Please provide us with the best email to contact you at.
  Adverse Childhood Experiences (ACEs)/Trauma Informed Care (TIC)
ACE Interface – the Ace Interface workshop lays a foundation of understanding about the research on Adverse Childhood Experiences (ACEs) and science of resilience, and it promotes understanding and application of the science to improve health and wellbeing across the lifespan.  Designed for community system change, it evokes new ways of thinking, compassion, hope, and motivation to act.  This 3-6 hour training can be customized for your organization.  A shorter, sneak-peek, is available, as well.
Becoming Trauma-Informed – Would your organization like to explore what it means to become trauma-informed?  What are the foundational principles?  What are you already doing well, and what are some areas where you could make change toward becoming more trauma-informed.  Whether you are in healthcare, education, law enforcement, non-profit, etc., trainings can be customized to fit your group's needs.
WI Office of Children's Mental Health Tip Sheets
Supporting Child Well-Being Through Covid-10 Grief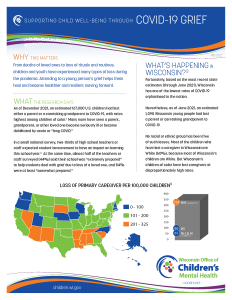 CLICK HERE for a PDF of this flyer
To arrange a workshop/training or ask a question contact: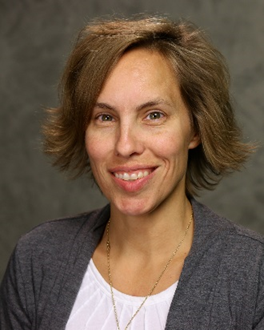 Tracy Henegar
UW-Madison Extension Douglas County
Human Development & Relationships Educator
1313 Belknap St Room 107
Superior, WI 54880
715-395-1426
tracy.henegar@wisc.edu
711 for Wisconsin Relay (TDD)