Do you want to help reduce the stigma of mental illness? Do you want to learn more about how to Make It OK to talk about mental illness? Join us for a brief online Zoom session on how you can Make It OK in our community.
Tuesday, May 3rd, Noon-1:00 pm or Monday, May 23rd, 11 am-12:00 pm
Register here: https://go.wisc.edu/4cc3gs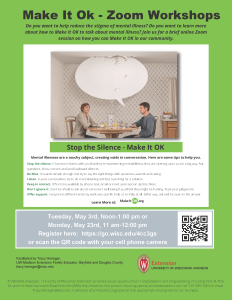 CLICK HERE to view a PDF of this flyer.