Are you dreaming of retiring soon?  Come learn how to live well in your retirement years.

Are you caring for an aging loved one?  Come learn how to better support them in this phase of their life.  And invite them, too!

"The class offering was actually profound for me. I am 70 years old and if I'm 'lucky' I may have 10 more 'good' years. The classes offered ways to make the years happier, healthier, and more worry free."
       "This program was very uplifting, I learned that the aging process can be done gracefully. I am working on a plan for the future to share with my family."
This 10-session virtual workshop is valued at over $100, but it is currently being offered for FREE through Extension.  Learn more in the attached flyer or contact Tracy Henegar for more information.
Class topics include:
• Navigating Longer Lives
• Exercise
• Sleep
• Healthy Eating & Hydration
• Financial Fitness
• Medication Management
• Advance Planning
• Healthy Relationships
• Falls Prevention
• Community Engagement
The ten-class series will be held over five weeks. You can choose from one of the following sessions:
Mondays and Wednesdays, August 2nd-September 1st 2:00 pm-3:00 pm
Mondays & Wednesdays, September 27th-October 27th, 11:00 am-noon
You can attend these FREE classes from the comfort of your home or wherever you are, anywhere in the state, as the class will be offered via Zoom, and participants will be able to connect via computer or dial in by phone.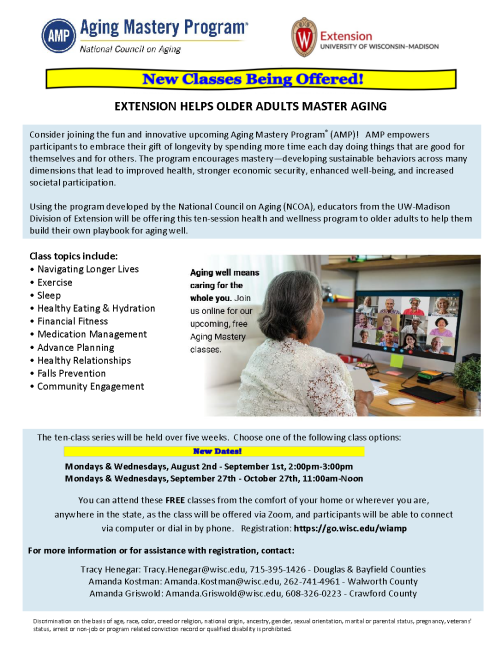 Registration: https://go.wisc.edu/wiamp
For more information or for assistance with registration, contact:
Tracy Henegar: Tracy.Henegar@wisc.edu, 715-395-1426 – Douglas & Bayfield Counties
Amanda Kostman: Amanda.Kostman@wisc.edu, 262-741-4961 – Walworth County
Amanda Griswold: Amanda.Griswold@wisc.edu, 608-326-0223 – Crawford County