Consider joining the fun and innovative upcoming Aging Mastery Program® (AMP)! AMP empowers participants to embrace their gift of longevity by spending more time each day doing things that are good for themselves and for others. The program encourages mastery—developing sustainable behaviors across many dimensions that lead to improved health, stronger economic security, enhanced well-being, and increased societal participation.
Using the program developed by the National Council on Aging (NCOA), educators from the UW-Madison Division of Extension will be offering this ten-session health and wellness program to older adults to help them build their own playbook for aging well.
Class topics include:
• Navigating Longer Lives
• Exercise
• Sleep
• Healthy Eating & Hydration
• Financial Fitness
• Medication Management
• Advance Planning
• Healthy Relationships
• Falls Prevention
• Community Engagement
The ten-class series will be held over five weeks. You can choose from one of the following sessions:
Tuesdays & Thursdays, June 8-July 8, 11:00 am-Noon
Mondays and Wednesdays, August 2nd-September 1st 2:00 pm-3:00 pm
Mondays & Wednesdays, September 27th-October 27th, 11:00 am-noon
You can attend these FREE classes from the comfort of your home or wherever you are, anywhere in the state, as the class will be offered via Zoom, and participants will be able to connect via computer or dial in by phone.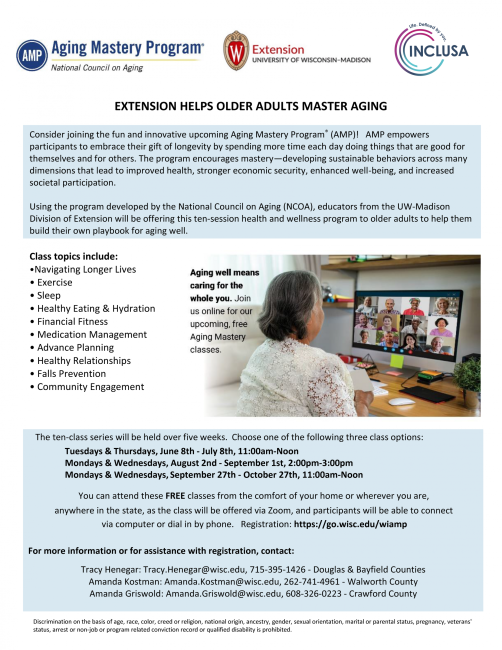 Registration: https://go.wisc.edu/wiamp
For more information or for assistance with registration, contact:
Tracy Henegar: Tracy.Henegar@wisc.edu, 715-395-1426 – Douglas & Bayfield Counties
Amanda Kostman: Amanda.Kostman@wisc.edu, 262-741-4961 – Walworth County
Amanda Griswold: Amanda.Griswold@wisc.edu, 608-326-0223 – Crawford County