After finishing their highly successful Strong Bodies winter series last month, the Food WIse ladies are back for round two!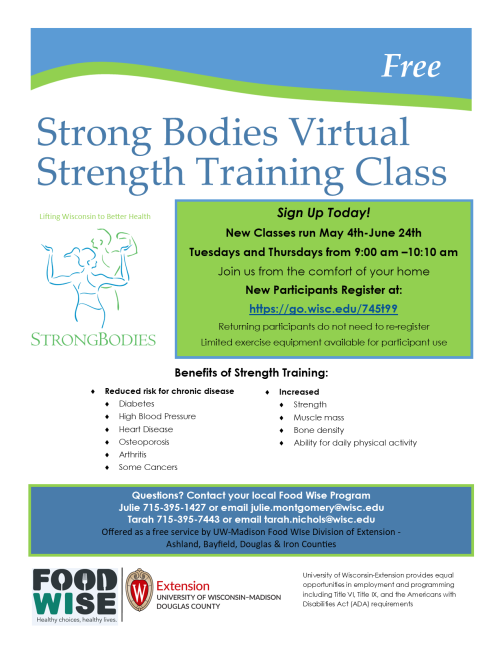 Strong Bodies Flyer May-June 2021
With benefits such as reducing risk for chronic disease, increasing muscle mass and bone density, we have you covered! The FoodWIse program for Douglas, Ashland, Bayfield and Iron Counties is offering a FREE virtual StrongBodies class, which can be done in the comfort of your own home.
This is a free program for anyone 18 years of age or older. The hour long class (followed by a short nutrition education piece) is scheduled to take place on Tuesdays and Thursdays at 9:00 am, from May 4 – June 24, 2021. Interested participants can join by phone, computer, iPad or tablet by registering below (please note that previous participants who are interested in this series do not need to re-enroll).
REGISTER TO ENROLL HERE 
For more information, please contact your local FoodWIse Program:
Julie Montgomery
FoodWIse Coordinator
Douglas County
julie.montgomery@wisc.edu
or
Tarah Nichols
FoodWIse Educator
Douglas County
tarah.nichols@wisc.edu