WINTER AGRICULTURE SAFARI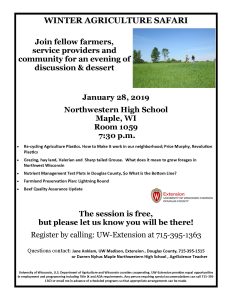 Join fellow farmers, service providers and
community for an evening of discussion & dessert
January 28, 2019
Northwestern High School
Maple, WI
Room 1059
7:30 p.m.
Re-cycling Agriculture Plastics. How to Make it work in our neighborhood; Price Murphy, Revolution Plastics
Grazing, hay land, Valerian and Sharp tailed Grouse. What does it mean to grow forages in Northwest Wisconsin
Nutrient Management Test Plots in Douglas County, $o What is the Bottom Line?
Farmland Preservation Plan: Lightning Round
Beef Quality Assurance Update
The session is free, but please let us know you will be there!
Register by calling: UW-Extension at 715-395-1363
Questions contact: Jane Anklam, UW Madison, Extension , Douglas County, 715-395-1515