In July, UW-Extension researchers released Slow Churn: Declining Dynamism in America's Dairyland (Conroy, Chen, Chriestenson, Kures, & Deller). This special report on the Wisconsin economy examined business births and deaths in all 72 Wisconsin counties. Outside of Dane and Eau Claire Counties, the picture for net business growth in Wisconsin is bleak. Most Wisconsin counties lose more businesses than are birthed on an annual basis.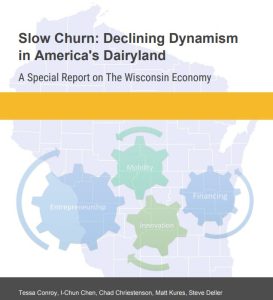 Douglas County is no exception to this negative growth trend. In Douglas County between 2010 and 2014, the county lost on average 75 employer businesses annually, and only gained 68 annually. This negative business growth is similar to demographic patterns in Northwest Wisconsin, where we are seeing an aging population, with a significant overall decline in births, and fewer children and young adults.
This special report does share an observation that these changing demographics present opportunities, as well as challenges. "Natural amenities such as miles of lakefront property make many northern Wisconsin counties popular destinations for retirees. The result is that these counties are home to an older population which has, on average, accumulated both human capital from years of work experience and financial capital from saving, investment, and accumulated home equity. This pool of skilled retirees has significant entrepreneurial potential. Many have resources, time, money to invest and, though they may have left traditional employment, a desire to be productive."
The challenge for the economic development community, is to foster an environment that encourages retired persons to consider entrepreneurial investments in Douglas County. A good place for persons interested in starting a small business to develop their idea is through the Small Business Development Center at UW-Superior Entrepreneurial Training Program (ETP), which is offered with support from the Wisconsin Economic Development Corporation. Registration for the fall ETP is open, and more information may be obtained by contacting Andy Donahue at 715-394-8352.