Do You Understand Your Tax Bill?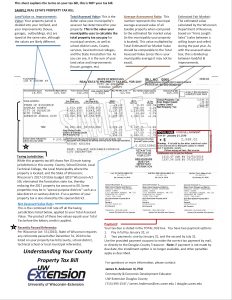 If you haven't received your tax bill yet, you will be soon. Do you understand all of those numbers contained within your bill? Download this Guide to Understanding Your Wisconsin Tax Bill to help you understand how to read your tax bill.
UPDATE: Graphic of bill updated with a 2017 tax bill, the narrative text/descriptions have not changed.
A special thanks to Karl Green with UW-Extension in La Crosse County, WI for preparing this template for UW-Extension.