Who and What?  Crystal Boyd will discuss the diversity and status of Minnesota's native pollinators, plus the challenges they face—including climate change. She will also describe her work updating the Minnesota state species list of bees, how to create a bee-friendly backyard, and potential work in the Laurentian Mixed Forest region. Please buzz on by to learn more about native bees!
Crystal Boyd earned her undergraduate degrees in English and Spanish at the University of Minnesota, alongside her minor in Entomology. She earned her Master's degree in Museum and Field Studies from the University of Colorado Boulder, where her thesis focused on bumble bees. Crystal now works as a native bee researcher with the DNR's Minnesota Biological Survey. She spent the past four summers surveying bees in the prairie region, and will expand her work to the Eastern Broadleaf Forest in 2017.
Crystal Boyd, entomologist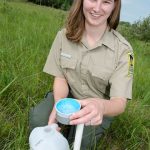 Minnesota Department of Natural Resources
When:
Tuesday, March 21, 2017
11:30 a.m. to noon – networking and sponsored lunch
12:00pm –  1 p.m. – presentation and conversation
Sponsored lunch provided – while supplies last! Bring your own beverage.
Where:
1854 Treaty Authority (conference room)
4428 Haines Road, Duluth 55811
(218) 722-8907
This Climate Conversations luncheon is hosted by the Minnesota Department of Natural Resources – Minnesota's Lake Superior Coastal Program and 1854 Treaty Authority in support of the Twin Ports Climate Coalition, fostering communication and collaboration as we adapt to climate challenges in the Twin Ports region.
Plan ahead for upcoming monthly conversations (always on third Tuesdays):
April 18 – Enhancing Community Resiliency of Coastal Communities Under Extreme Weather Events
May 16 – Fishing in the Future: Impacts to North Shore Fisheries
June 20 – The Overall View of Northern Forests: A Multi-pronged Solution for Forest Adaptation